B.O.D. Incubator Std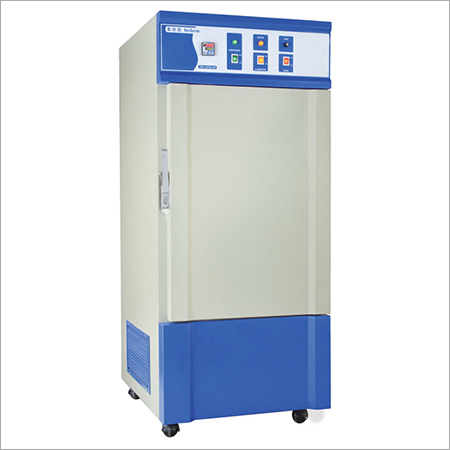 B.O.D. Incubator Std
Product Description
Biological Oxygen Demand (B.O.D.) Incubator P.I.D. Controller Based Models :
Double walled in construction, gap between the two walls filled with high quality Polyurethane Foam (PUF)
Incorporated with Microprocessor based Auto tuning type PID Temperature Indicating Controller cum Data Logger with Dual Display for Set & Process value indication. It has a storage of up to 500 readings and comes with a built-in RS-485 output. This enables the user to upgrade the system anytime down the line and download the data from the Controller onto the PC using a suitable hardware. In the event of power failure, Non-Volatile memory allows chamber to return to original set point when power is restored.
Audio Visual Alarm in case of temperature deviation from set value.
A highly accurate Pt-100 3 Wire RTD sensor is used for sensing of Temperature.
Incorporated with additional temperature Hi/Lo cut-off safety system to cut-off compressor below +5c & to cut-off the heater above + 60c
Anti-moisture entry at mouth of the cabinet using hot line method
Full length inner acrylic door and outside metal door with S.S. lock & key provided.
Food Grade Silicon gasket fitted on the Chamber and Magnetic Gasket fitted on outer metal door ensures zero leakage between the door & the Chamber.
Provided with a motor-blower arrangement at the back for forced air circulation (2 Nos.for 800 Ltr. Cap & above) to ascertain temperature uniformity within the chamber
Hermetically sealed CFC/HCFC Free Emerson Make Compressor unit utilizing R-134A an eco-friendly refrigerant with electronic time relay to safeguard the Compressor.
Front lockable & back free heavy-duty castor wheels provided for easy moveability.
Rod type Shelves provided are made of Stainless Steel
Chambers of capacity 800 Ltr. and above are available with twin doors
Provided with Validation Documents.
Electrically operated on 230 V AC, 50 Hz. Single Phase supply.
Temperature Range : + 5C To + 60C
Temp. Accuracy : 0.5C
Temp. Uniformity : 2C
Standard Model :
Outer chamber made of Mild Steel (20 swg) duly powder coated and inner chamber made of Stainless Steel 304 grade (20 swg) Mirror finish.
GMP Model :
Outer chamber made of Stainless Steel 304 grade (20 swg) and inner chamber made of Stainless Steel 304 grade (20 swg) Mirror finish.
Specification
| | | | | |
| --- | --- | --- | --- | --- |
| CAT.NO. | CAPACITY | INTERNAL DIMENSION IN W x D x H (mm) | EXTERNAL DIMENSION IN W x D x H (mm) | SHELF |
| TBOD-100 / TBOD-100G | 100 L (3 Cu.Ft.) | 430 x 400 x 600 | 580 x 720 x 1290 | 02 |
| TBOD-120 / TBOD-120G | 120 L (4 Cu.Ft.) | 430 x 400 x 700 | 580 x 720 x 1390 | 03 |
| TBOD-165 / TBOD-165G | 165 L (6 Cu.Ft.) | 520 x 400 x 800 | 670 x 720 x 1490 | 03 |
| TBOD-200 / TBOD-200G | 200 L (8 Cu.Ft.) | 550 x 400 x 910 | 700 x 720 x 1600 | 03 |
| TBOD-300 / TBOD-300G | 300 L (10 Cu.Ft.) | 560 x 450 x 1200 | 710 x 770 x 1890 | 04 |
| TBOD-400 / TBOD-400G | 400 L (13 Cu.Ft.) | 630 x 530 x 1200 | 780 x 850 x 1890 | 04 |
| TBOD-600 / TBOD-600G | 600 L (20 Cu.Ft.) | 720 x 650 x 1300 | 870 x 970 x 1920 | 04 |
| TBOD-800 / TBOD-800G | 800 L (26 Cu.Ft.) | 1120 x 600 x 1300 | 1370 x 920 x 1920 | 06 |
| TBOD-1000/ TBOD-1000G | 1000 L (33 Cu.Ft.) | 1150 x 670 x 1300 | 1400 x 990 x 1920 | 08 |
| TBOD-1200/ TBOD-1200G | 1200 L (40 Cu.Ft.) | 1250 x 750 x 1300 | 1500 x 1070 x 1920 | 08 |
| TBOD-1500/ TBOD-1500G | 1500 L (50 Cu.Ft.) | 1300 x 890 x 1300 | 1550 x 1210 x 1920 | 08 |
| TBOD-2000/ TBOD-2000G | 2000 L (66 Cu.Ft.) | 1500 x 920 x 1460 | 1750 x 1350 x 1920 | 08 |
In Cat. No. column G stands for GMP Models
800 Ltr. capacity & above models are available in two door system
OPTIONAL :
| | |
| --- | --- |
| CAT.NO. | OPTIONAL ACCESSSORIES |
| DS-4/8 | Four/Eight Channel programmable temperature Data Scanner for record, store & print data online and off line with variable print time intervals, suitable for 80 Col. dot matrix printers |
| DS-16 | Sixteen Channel programmable temperature Data Scanner for record, store and print the data online and off line with variable print time intervals, suitable for 80 col. dot matrix printers |
| TP_Suite 2.1 | TP_Suite 2.1 CFR 21 Part 11 compliance Windows based communication software for data management. Complete with RS-485 multi dropping to monitor multiple chambers (Tech Panacea Make) to one single software. |
| SRS | Ready to use stand by Refrigeration system in case if regular system fails. Complete with Compressor, Condenser and accessories (Only for 600 Ltrs & above Models) |
| SAS | Security Alarm System suitable for TECH PANACEA make 4 equipment alarm for deviations with LED indicators for identification with individual alarm acknowledgment button |
| GSM-5 | Mobile Alerts via GSM Technology in case of System failure (SIM Card in Customers scope) |
Trade Information
Export Quality Wooden Packing

All India