Laboratory Oven STD Model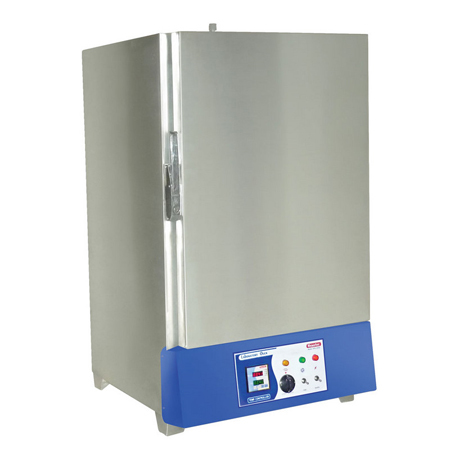 Laboratory Oven STD Model
Product Description
LABORATORY OVEN - GRAVITY CONVECTION TYPE (STANDARD MODEL) :
DOUBLE walled in construction. Gap between the two walls filled with high insulation glass wool.
Outer chamber made of Mild Steel ( 20 swg.) duly powder coated and inner chamber made of Stainless Steel 304 grade ( 22 swg.).
Incorporated with Microprocessor based Auto tuning type PID Temperature Indicating Controller with Dual Display for Set & Process value indication.
The Controller also has a built-in Digital Timer to set the Soak time if desired in Hours OR Minutes.
A highly accurate Pt-100 3 Wire RTD sensor is used for sensing of Temperature.
Thermostatic High Temperature Safety cut off provided.
High quality Nichrome wire Air Heating Elements provided at the bottom of the Chamber above the Motor Blower assembly.
Door gasket provided is made of FOOD GRADE SILICON ( Instead of Asbestos rope).
Door latch with stopper made of solid heavy gauge Stainless Steel.
Installed with motorized blower at the bottom below the heaters for uniform air circulation.
Rod type Shelves provided are made of Stainless Steel
Electrically operated on 230 V AC, 50 Hz. Single Phase supply.
TEMP. RANGE:Ambient + 5oC to + 250oC
TEMP. ACCURACY :+1oC
TEMP. UNIFORMITY: +2oC/ + 3oC

CAT.NO.

CHAMBER SIZE W x D x Ht.

IN INCHES IN MM

EXTERNAL DIMENSION
W x D x Ht.

RATING
WATTS

SHELVES

TLO-27

12" x12" x 12"

300 x 300 x 300

19" x 20" x 31"

1000 W

02

TLO-45

14" x14" x 14"

350 x 350 x 350

21" x 22" x 33"

1500 W

02

TLO-90

18" x18" x 18"

450 x 450 x 450

25" x 26" x 37"

2500 W

02

TLO-120

18" x18" x 24"

450 x 450 x 600

26" x 27" x 45"

3000 W

03

TLO-220

24" x24" x 24"

600 x 600 x 600

31" x 32" x 45"

3500 W

03

TLO-325

24" x24" x 36"

600 x 600 x 900

31" x 32" x 56"

4000 W

04