Muffle Furnace GMP Model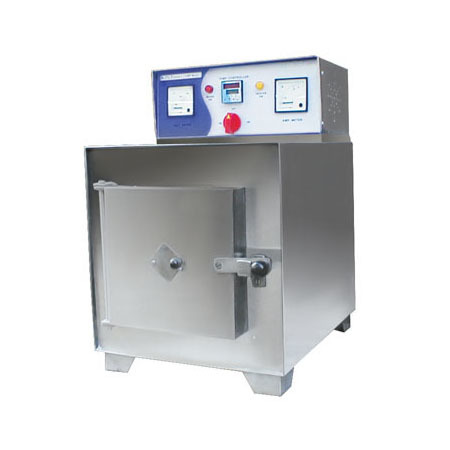 Muffle Furnace GMP Model
Product Description
Incorporated in year 2015, we have been engaged in manufacturing and supplying a wide range of Muffle Furnace GMP Model. Offered model is front-loading box-type oven for high-temperature applications such as fusing glass, ceramics, soldering and brazing articles. With working temperature is 1150 to 1200 deg.C, this model is enabled with chromel alumel sensor that sense temperature inside furnace. Offered Muffle Furnace GMP Model is manufactured using top-notch quality components by our adept professionals with latest innovative techniques.
Key Points:
Low power consumption
Highly reliable
User-friendly operation
MUFFLE FURNACE :
Rectangular, horizontal, electric Muffle furnace.
Working temperature 1150oC, Maximum temperature 1200oC.
Provided as standard a Microprocessor based Auto tuning PID Digital Temperature Controller cum Indicator (Dual Display for Set & Process Value Indication).
Chromel Alumel (K-type) sensor is used to sense the temperature inside the furnace,
Incorporated with long lasting & durable, high grade A-1 heating elements.
The Muffle wound with the heating element is enclosed with a dense layer of Ceramic wool blanket of density 96 Kg/m and introduced inside the outer casing. Further insulation consists of thick Syndhania sheet placed immediately next to all four sides of the outer casing. Then the gap between the sheet & Muffle if filled with a thick layer of Mineral Wool thus ensuring minimal skin temperature.
Over temperature Safety in the form of a Contactor is provided to cut-off the power to heaters in case of overshoot of Temperature.
Electrically operated on 230 V AC, 50 Hz. Single Phase supply EXCEPT Muffle Furnace of Size 18" x 9" x 9" which operates on 440 V AC, 50 Hz. Three phase supply.
STANDARD MODEL :
Outer body made of Mild Steel ( 20 swg.) and front plate made of thick Mild Steel plate ( 6 mm ). The entire body is duly powder coated.

CAT.NO.

VOLUME IN LTRS.

MUFFLE WORKING SIZE D x W x Ht.

IN INCHES

EXTERNAL DIMENSION D x W x Ht. IN INCHES

RATING

TMF-2

2 Ltrs.

9" x 4" x 4"

23" x 14" x 23"

2000 W

TMF-4

4 Ltrs.

10" x 5" x 5"

24" x 15" x 24"

2500 W

TMF-7

7 Ltrs.

12" x 6" x 6"

28" x 17" x 27"

3000 W

TMF-23

23 Ltrs.

18" x 9" x 9"

36" x 28" x 24"

6000 W
GMP MODEL : Outer body made of S.S. 304 ( 20 swg.) and front plate made of thick Stainless Steel 304 grade ( 6 mm )

CAT.NO.

VOLUME IN LTRS.

MUFFLE WORKING SIZE D x W x Ht.

IN INCHES

EXTERNAL DIMENSION D x W x Ht

RATING

TMF-2G

2 Ltrs.

9" x 4" x 4"

23" x 14" x 23"

2000 W

TMF-4G

4 Ltrs.

10" x 5" x 5"

24" x 15" x 24"

2500 W

TMF-7G

7 Ltrs.

12" x 6" x 6"

28" x 17" x 27"

3000 W

TMF-23G

23 Ltrs.

18" x 9" x 9"

36" x 28" x 24"

6000 W
Optional :

| | |
| --- | --- |
| CAT.NO | OPTIONAL ACCESSORIES |
| TPC-4 | Microprocessor based PROGRAMMABLE Profile type Temperature Controller with 8 steps of Ramp & Soak (4 each) |
| TPC-8 | Microprocessor based PROGRAMMABLE Profile type Temperature Controller with 16 steps of Ramp & Soak (8 each) |
| TC-PC | Microprocessor based programmable Temperature Controller with RS-485 output to connect to PC for data downloading in lieu of above standard Controller |
| TP-Suite | "TP_Suite 2.1" CFR 21 Part 11 compliance Windows based communication software for data management complete with RS-485 multi dropping to monitor multiple chambers to one software |