Refrigerated Incubator Shaker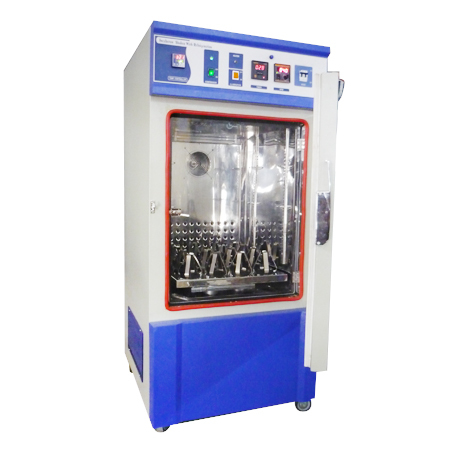 Refrigerated Incubator Shaker
Product Description
We are becoming as one of fastest growing companies, engaged in manufacturing and supplying premium grade Refrigerated Incubator Shaker. Finding usefulness in microbiology, bacteriology and tissue cultures, It is necessary to incorporate oxygen for biological cell growth. provided shaker is used for evenly distributing nutrients throughout culture media. This shaker is highly cherished among clients owing to its flawless functionality. Offered Refrigerated Incubator Shaker is manufactured using quality checked components by our experienced professionals.
Key Points:
Low power consumption
Free from defect
Less noisy operation
ROTARY FLASK SHAKER - INDUSTRIAL MODEL :
Used for shaking Erlenmeyer Conical Flasks with S.S. Lotus Clamps.
Body of Mild Steel (20 swg.) Panels constructed on thick iron angle framework. The entire outer body alongwith the Panels is duly powder coated.
Incorporated with heavy duty AC Brushless Worm gear motor with Variable Frequency Drive (VFD) to control the orbital motion speed from 50 to 200 RPM.
The shaking assembly comprises of two heavy duty Mild Steel plates with four nos. heavy duty SKF bearings sandwiched between them on four sides and an eccentric drive mechanism positioned at the center.
Auto restart at preset RPM in case of power failure.
Amplitude : 50 mm
These Shakers are sturdy and specifically designed for continuous heavy duty operations in production facilities.
Electrically operated on 230 V AC, 50 Hz. Supply.

CAT. NO.

CAPACITY

PLATFORM SIZE

TIRS-36

500 ml x 64 Flasks OR

1000 ml x 36 Flasks

36" x 36"

TIRS-48

500 ml x 121 Flasks OR

1000 ml x 81 Flasks OR

2000 ml x 49 Flasks

48" x 48"

TIRS-56

500 ml x 169 Flasks OR

1000 ml x 100 Flasks OR

2000 ml x 81 Flasks

56" x 56"
NOTE :
User to specify the Flask Capacity (500 / 1000 / 2000 ml) at the time of placing the Order.
Universal Platform with assortment of Flask holders to accommodate various Flask capacities also available